The Baby Boomer Generation: How They Affect Self Storage
Out of Stock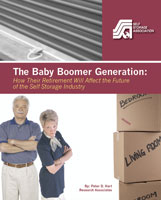 Product Details
This new research study delves into the major influences that the Baby Boomers have on our economy. To develop a richer understanding of the Boomer generation, specifically as it relates to lifestyle issues and alternatives that may affect their use of self storage currently and in the future, Peter D. Hart Research Associates, Inc., undertook a multifaceted research plan that comprised both quantitative and qualitative methodological techniques.
Additional Product Photos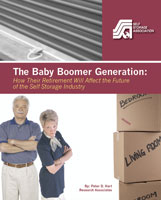 Site Maintenance
Our system is currently down for scheduled maintenance. Your member services will be available again shortly. Please check back soon.